Surrounding tourism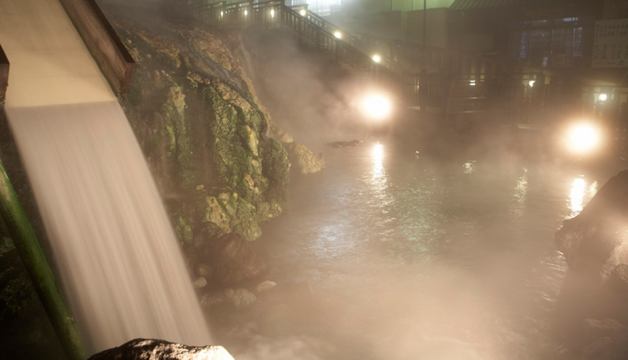 Speaking of Kusatsu's sights, it is "Yu-batake" and "Sai no kawara Park".
"Hotel Miyuki" in the middle distance between the two is the best location.
The shops are on the both sides of the street that connects the two, so shops are standing side by side, so please shop,
Please try walking.
Surrounding tourism

Yu-batake located in the center of hot spring town is the symbol of Kusatsu Onsen."Yu-batake" and "Yu-no-hana" are the traditional culture of Kusatsu.
Yu-batake is a field itself made to take Yu-no-hana from hot water as it reads it.
It is also from the Taisho (time period) Period that we started to make Yu-no-hana in Kusatsu it is now, until then it has taken in the extensive range from Sai no kawara to the Yu-batake Sai no kawara, I took a straw in the pool and picked up a Yu-no-hana that adhered there .Prior to the war, we increased the number of tubs that were four, to seven after the war.
As it were, the scenery of the current Yu-batake is a traditional culture that has been made, inherited, and survived as the collection of Yu-no-hana becomes more popular.Just like hot springs, due to this background, the city of Kusatsu is a spa town that is loved by many people during a long history.

A souvenir shop, a bunny shop etc. are arranged from a Yu-batake passing Sai no kawara street in the Sai no kawara crowded with tourists, the lava rolls and it reaches a desolate Kawara where smoke rises in the future.A hot spring of 50 degrees or more gushes from everywhere along the Yukawa that flows into the garden at 15,000 liters per minute.
Because of the strong acidic hot springs, no vegetation grows on the Kawara, so it is also known as "Sainokawara / Oninosensui".However, the only rare moss called marigoque grows in Yukawa.

In the park there are cobbled streets and easy walking Zuisho Pond. On the way there are ponds of hot springs that emit beautiful emerald green shines such as "Zuisho Pond" and "kohaku no ike lake" and German medicist Dr. Bälz, There is a bust of Dr. Scriaba who is a collaborator.They are pioneers of modern Japanese medicine that spread the Kusatsu hot springs and environment to the world.

It is right next to the center of Kusatsu"Yu-batake".Kusatsu unique bathing method "Jikan-yu Hot Spring" prepares for preparing gymnastics "Yu Mimi".Experience corner is also popular.The hot springs also serve as preparing gymnastics by lowering the temperature without diluting "Rakunoyu" which is sprinkled at high temperature with water.


Yukemuritei(Footbath)

Yu-batake the Higashiya of total hinoki built standing at the side of the Yu-batake, the building reproduced the common bathing area "Matsuno Yu" that was in this place in the Edo (time period).Yu-batake addition to being able to enjoy hot springs drawn from the Yu-batake with hot water reservoirs, you can also enjoy Footbath, and conversations between strangers sometimes bounces, so you are guaranteed to be immersed in the hot springs' journey.Also, you can taste a fantastic atmosphere with a different taste at night.Would you like to have a couple, a couple, or a couple taking a walk?

It was the beginning of this museum concept that I thought "Customers who come to the hot spring want to make a museum that they can enjoy entertaining with yukata and geta."The art museum has a total floor space of 475 square meters.Approximately 100 points are regularly displayed, including Mr Kataoka books called ink paintings, pottery, lacquerware and the like.I am changing the work several times a year.There is a corner to sell goods such as postcards, and a space to relax with drinking tea.Warmly welcoming visitors with Yukata and Geta!

Among the large domes with a height of 15 m using hot spring heat, it is a paradise of animals and plants living in the tropics.Iguana, Pygmy marmoset, Erika lizard, etc 250 species 1,000 rare animals and colorful plants can be met.There is also an interaction section with small animals such as hamsters and mini pigs.In the facility it is also seen that Japanese monkeys are using hot springs ....Admission fee is 1,000 yen for adults, 700 yen for high school students, 600 yen for children, group discount available.