Access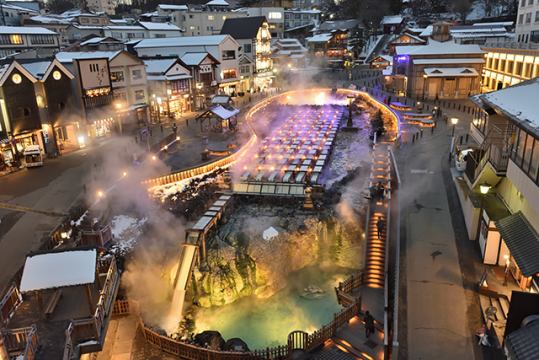 About parking lot and road conditions!
There is a grounded outlet for charging EVs and PHEVs.There is no charging cable, so please bring your own.

This Yuyado Miyuki main building is located in the center of town.Facilities with parking space are limited on Yu-batake Street,
The same applies to the parking lot of this facility, and all customers cannot leave their cars there.Until 10am the next day
In particular, low-height vehicles and large vehicles (Alphard class) cannot be parked.
Therefore, we ask for your understanding that we may need to use Sai no kawara Park parking lot.
Please also note that our staff will move your car within the parking lot.
If you do not understand this, or if you are unable to leave your car keys, please find another parking lot.

Kusatsu Onsen is located in the highlands at an altitude of 1.300m.It snows during the winter
We will also freeze the road. Especially after 17 o'clock in the evening, the road becomes even more
Due to slipping, we encourage you to arrive as early as possible.

★Notice of winter closure period of Route 292 Go Shiga Kusatsu Road
From 13:00 on Wednesday, November 13, 2023
 ~April 24, 2024 (Wednesday) 10:00
Please be sure to check before you go out.(0279-88-0001)


About road congestion
Saturdays and holidays, before the national holiday is that of the World Heritage Site near the Tomioka Silk Mill of Tomioka is quite a traffic jam. Also,
Karuizawa, there will be more traffic than you think during the summer and public holidays.
Please come with plenty of time.